Welcome to the house, where the famous magician and alchemist had been making his experiments centuries ago
Romantic accommodation in the broader centre of Banská Bystrica, right next to the R1 motorway exit.
Stylishly furnished suites with area of 85 m2, with 2 bathrooms, 2 toilettes, fully equipped kitchen, outdoor seating and a fireplace. 3 rooms, 6 beds as a standard, (2 double beds, 2 single beds), extra beds for children can be added.
Own parking, quick access from the motorway. Paracelsus house is situated 1200 m from the very heart of Banská Bystrica, Námestie SNP central square.
Activities
There´s seating for 8 people with a waterproof canopy and a fireplace made of firebricks. You can borrow a large metal garden grill, spits or a 16-litre goulash pot (cauldron).
You can go for a walk or a bike trip to the surroundings – Ostrý vrch hill, single trails and pump track in Laskomerská dolina valley. You can choose from other activities according to the season: indoor swimming pool with wellness, beech swimming pool, skiing in the suburban resorts of Králiky, Selce, Šachtičky. Culture: opera, galleries, museums, Cinemax, Memorial of Slovak National Uprising.
Banská Bystrica lies in the centre of Slovakia, everything is just a stone's throw away from here.
You will not miss anything here
The suite has a fully equipped kitchen with a gas hob, fridge, washing machine, cable internet or wi-fi in every room, Smart TV with internet connection. Air-conditioned wine cellar is available at request, other rooms do not need air conditioning as the 1480's building walls are 80 cm thick and never get overheated.
You can lock your bike in the basement and park your car next to the building for free.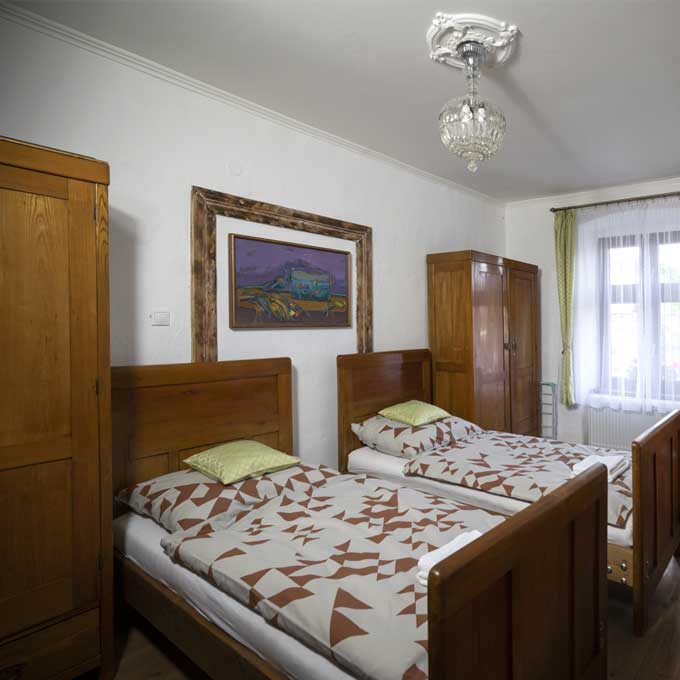 Room 1930
Furnished with 1930's furniture from the nearby chair factory that used to stand 200 metres far from the house. The furniture is complemented with 1931 crystal chandelier that used to hang in "Národný dom" in the historical centre of Banská Bystrica during the opening ceremony.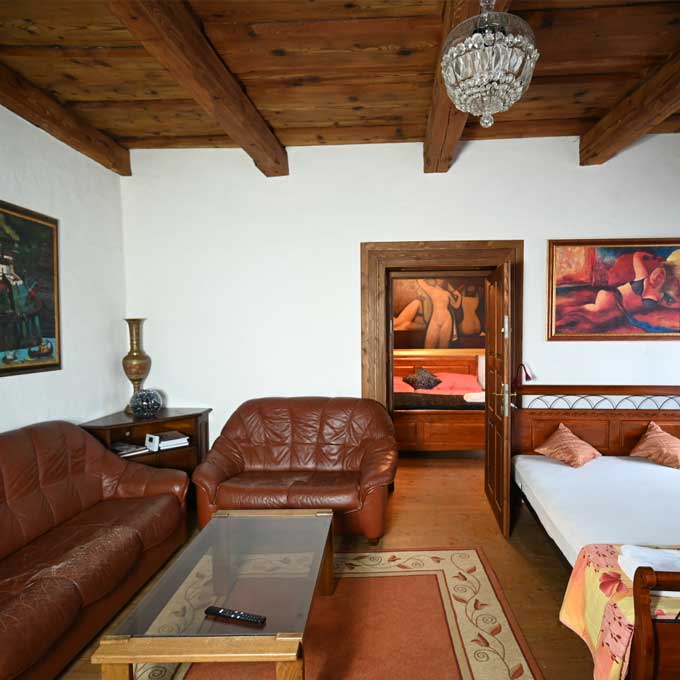 Room 1800
19th-century red spruce wood ceiling. Leather sofa, double bed, dining table. Smart TV. Complemented with the work by Štefan Belička, the painter from Banská Bystrica.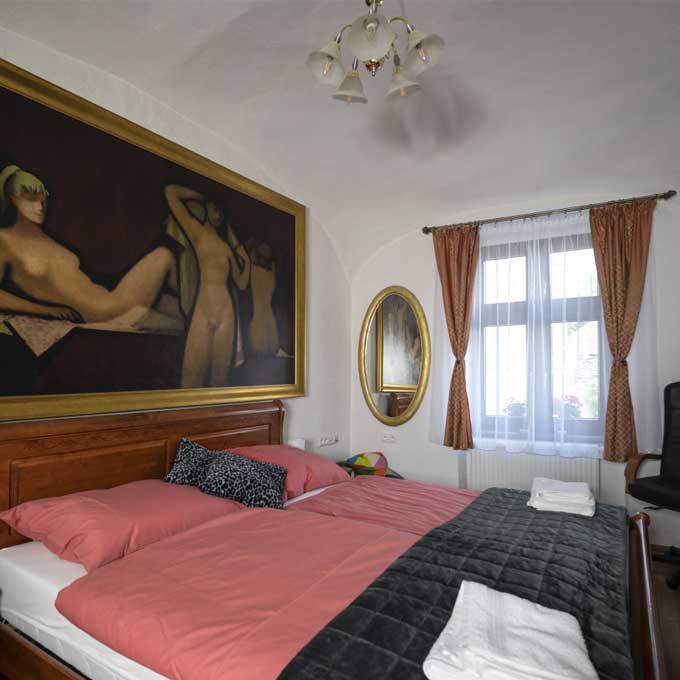 Room 1700
Room with 18th-century burgher ceiling with en-suite bathroom, toilette and a children cot at request. The room is dominated by a painting by František Kudláč above the double bed.